Kasim Sulton in Movin' Out
Kasim Sulton is making select appearances in the Billy Joel / Twyla Tharp musical Movin' Out at The Richard Rogers Theater in New York City.
Movin' Out is a musical based on Billy Joel songs and was nominated for 10 Tony Awards. It tells the story of 5 friends living through the tumultuous years of 1967 to 1987. It features over 20 dancers and the band perform 24 Billy Joel songs.
Kasim describes it as "The band - all 9 pieces - is on a traveling stage that rises and moves horizontally over the dancers. The cool thing is that instead of the band being in the Orchestra pit, invisible to the audience, in this show the band is a visual part of show.".
Kasim has said that he will post details of the performances that he will be playing in advance on KasimSulton.com.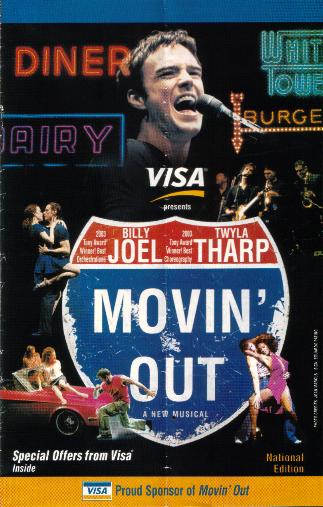 Address:
Richard Rodgers Theatre
226 West 46th Street
New York, NY 10036
Box Office : (212) 221-1211
Group Sales : (212) 840-3890
Official website:
Moving Out
Show times:
Tuesdays 8pm
Wednesdays 2pm / 8pm
Thursdays 8pm
Fridays 8pm
Saturdays 2pm / 8pm
Sundays 3pm
Tickets:
Ticketmaster: 212 307 4100
or click here
Prices:
Orchestra $100
Front Mezzanine $100
Rear Mezzanine (rows A-F) $70
Rear Mezzanine (rows G-H) $40
(Discounts for students are available for some performances
Format:
Act 1 - 43 minutes
Intermission: 18 minutes
Act 2 - 50 minutes
Songs performed
(in alphabetical order):
Air (Dublinesque)
Angry Young Man
Big Man on Mulberry Street
Big Shot
Captain Jack
Elegy (The Great Peconic)
For the Longest Time / Uptown Girl
Goodnight Saigon
Innocent Man
Invention in C Minor
It's Still Rock And Roll To Me
I've Loved These Days
James
Movin' Out (Anthony's Song)
Pressure
Reverie (Villa d'Este) / Just the Way You Are
River of Dreams / Keeping the Faith / Only the Good Die Young
Scenes from an Italian Restaurant
Scenes from an Italian Restaurant (Reprise)
Shameless
She's Got A Way
Summer, Highland Falls
The Stranger
This Night
Waltz #1 (Nunley's Carousel)
We Didn't Start the Fire
(Kasim sings in all but about 2 of the songs)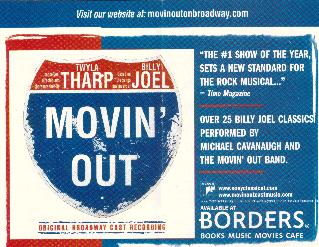 To date Kasim has played the following performances:
1) Friday 1st October (evening) - Guitar
2) Sunday 3rd October (matinee) - Guitar
3) Sunday 10th October (matinee) - Guitar
4) Sunday 10th October (Columbus weekend special evening performance) - Guitar
5) Saturday 30th October (matinee) - Guitar
6) Saturday 30th October (evening) - Guitar
7) Friday 5th November (evening) - Guitar
8) Saturday 13th November (matinee) - Guitar
9) Saturday 13th November (evening) - Guitar
10) Friday 19th November (evening) - Guitar
11) Friday 26th November (matinee) Thanksgiving Friday special matinee performance - Guitar
12) Friday 26th November (evening) - Guitar
13) Sunday 28th November (matinee) - Guitar
14) Friday 3rd December (evening) - Guitar
15) Sunday 28th November (matinee) - Guitar
16) Saturday 11th December (evening) - Guitar
17) Sunday 26th December (matinee) - Guitar
18) Sunday 26th December (evening) - Guitar
19) Monday 27th December (evening) - Guitar
20) Tuesday 28th December (evening) - Guitar
21) Wednesday 29th December (matinee) - Guitar
22) Wednesday 29th December (evening) - Guitar
23) Saturday 8th January (evening) - Guitar
24) Sunday 9th January (matinee) - Guitar
25) Sunday 23rd January (matinee) - Guitar
26) Sunday 30th January (matinee) - Guitar
27) Sunday 6th February (matinee) - Guitar
28) Sunday 13th February (matinee) - Guitar
29) Tuesday 15th February (evening) - Guitar
30) Wednesday 23rd February (evening) - Guitar
31) Thursday 24th February (evening) - Bass
32) Saturday 26th February (matinee) - Bass
33) Sunday 27th February (matinee) - Guitar
34) Friday 4th March (evening) - Guitar
35) Sunday 6th March (matinee) - Guitar
36) Wednesday 9th March (matinee) - Guitar
37) Friday 11th March (evening) - Guitar
38) Saturday 12th March (matinee) - Guitar
39) Saturday 12th March (evening) - Guitar
40) Tuesday 15th March (evening) - Guitar
41) Wednesday 16th March (matinee) - Guitar
42) Wednesday 16th March (evening) - Bass
43) Sunday 20th March (matinee) - Guitar
44) Wednesday 23rd March (matinee) - Guitar
45) Saturday 26th March (matinee) - Guitar
46) Saturday 26th March (evening) - Guitar
47) Wednesday 30th March (matinee) - Guitar
48) Wednesday 30th March (evening) - Guitar
49) Friday 1st April (evening) - Guitar
50) Saturday 2nd April (matinee) - Guitar
51) Sunday 3rd April (matinee) - Guitar
52) Saturday 9th April (matinee) - Guitar
53) Saturday 9th April (evening) - Guitar
54) Friday 15th April (evening) - Guitar
55) Sunday 21st April (matinee) - Guitar
56) Friday 29th April (evening) - Guitar
57) Saturday 30th April (matinee) - Guitar
58) Saturday 7th May (evening) - Guitar
59) Saturday 14th May (evening) - Guitar
60) Sunday 15th May (matinee) - Guitar
61) Friday 27th May (evening) - Guitar
62) Saturday 28th May (matinee) - Guitar
63) Saturday 28th May (evening) - Bass
64) Saturday 23rd July (matinee) - Guitar
65) Saturday 23rd July (evening) - Guitar
66) Wednesday 27th July (matinee) - Guitar
67) Wednesday 27th July (evening) - Guitar
68) Friday 29th July (matinee) - Guitar
69) Wednesday 3rd August (matinee) - Guitar
70) Saturday 5th August (matinee) - Guitar
71) Saturday 5th August (evening) - Guitar
72) Friday 26th August (evening) - Guitar
73) Saturday 22nd October (evening) - Guitar
74) Sunday 23rd October (matinee) - Guitar
75) Friday 28th October (evening) - Guitar
76) Sunday 30th October (matinee) - Guitar
77) Saturday 12th November (matinee) - Guitar
78) Saturday 12th November (evening) - Guitar
79) Wednesday 23rd November (matinee) - Guitar
80) Friday 25th November (matinee) - Guitar
81) Saturday 26th November (matinee) - Bass
82) Saturday 26th November (evening) - Bass
83) Wednesday 7th December (matinee) - Guitar
84) Wednesday 7th December (evening) - Guitar
85) Thursday 8th December (evening) - Guitar