The KasimSulton Mailing List is a moderated list, purely for news about Kasim (television appearances, concerts, etc) with weekly news of his activities when he's touring - the oldest running active Kasim Sulton mailing list!
KasimInfo Site Blog
Blog02 (02/17/01 - 02/02/01)
02/17/01
10.05 - There were several more posts on the Kasim Sulton Yahoo Message board about Kasim's solo music, The Basement Tapes and Slickmusic.
10.00 - As I sometimes update the site a few times in one day, I decided to add the timing to the "Site last updated" line on the front page. All timings are based on NYC time as that's where Kasim is based.
Another copy of "Kasim" (Kasim's first solo release from 1982) is available again at E-Bay. The direct link is in the News section of the site.
Overnight, there were a couple of posts on the Kasim Sulton Yahoo Message board about the Bassics magazine article.
For the first time since Kasim's first official website opened just over a week ago, there were no posts on it yesterday!
02/16/01 - There were a couple of posts on the Kasim Sulton Yahoo Message board about buying Kasim's solo music.
By request(!), any links to another site in this Blog page will now open into a new browser.
The first batch of results from the XXXXX survey were posted on the site . An impressive 14% said that they first heard about Kasim's first official site from KasimInfo.com! All other sites were lumped together under "Meat Loaf sites" or "Todd Rundgren sites", this site was the only one that was listed on it's own. Strangely, the survey only asks about websites and not mailing lists where most people will have first heard of the site. Another surprising result of the survey was that only 41% own either The Basement Tapes or The Bassment Tapes, whereas 60% own Kasim.
There were some posts yesterday on the Road to Utopia mailing list as someone had noticed the replicated posts on this Blog page about Kasim from the Todd Rundgren mailing list and wished to know how to join. Due to that post I have now improved the Contact page on this site (left index bar, at the bottom) and included details of more Kasim related mailing lists and messageboards. I've also changed the link from "Contact" to "Contact with other Kasim fans".
02/15/01 - There were some more posts yesterday on the Kasim Sulton Yahoo Message Board about the venues for Kasim's upcoming solo shows.
02/14/01 - Over the last couple of days there have been some posts on the Kasim Sulton Yahoo Message Board about Kasim and astrology.
02/13/01 - Sarah Merchant's Road to Utopia website now has a link to XXXXX.
Overnight there were some more responses on the Todd Rundgren Mailing List about Kasim's Las Vegas Campaign:-
"hmmmmm...maybe if Kas dressed up like an Elvis impersonator or Wayne Newton he would have a better chance getting a Vegas gig...as far as a campaign, if it was anything like the past election send all your requests to Florida...then for sure he will get "elected" er' booked."
"I like Kasim alot...good voice, nice guy, and he writes tunes that I usually like. But there is no way in hell that ANYONE in Vegas is going to book him. I mean, what is his draw? NOONE knows who he is! I wish him the best though, and am looking forward to hearing his new disc."
"Maybe Kasim should perform as "Pregnant Chad and the Recounts". He could gear his act towards the retired set... sing some Cole Porter standards and Broadway showtunes. Package the show with an all you can eat dinner buffet for $19.95. "
02/12/01 - Somebody forwarded to a Todd Rundgren Mailing List, Kasim's former manager's message about Kasim needing more votes in the Las Vegas Campaign and this response was posted:-
"I have to say, I dig the guy, this "Book Kasim in Vegas" is really a ridiculous effort. The Vegas bookers are right, of course, about the fact that no one would go see Kasim. Because they KNOW their market, they know what kind of artist pulls in an audience in Vegas, and Meat Loaf's bass player (if they have any frame of reference at all for him, that would be it) hardly fits the bill. 500 or 1,000 Kasim fans arguing for his booking in Vegas is going to fall on deaf ears; better, 500 or 1,000 hard core gamblers or frequent Vegas travelers. There are people who go to Vegas every year, two, three times a year, more, and the only thing Vegas promoters are going to respond to is some sort of statement from THIS rank and file."
It was announced tonight that Kasim will be appearing on Backstage Live on Saturday 3rd March! The show lasts for two hours and Kasim will sing a song and be interviewed in each hour of the show. Kasim's former manager also stated that the Las Vegas Campaign is struggling and needs at least another 500 votes (from unique addresses) before there is any hope of booking Kasim at any venue in Las Vegas. It is only after booking Kasim in Las Vegas do they hope to stand any chance of booking a tour.
As the page was getting large, I moved the Blog items from January 2001 to another page. The link is at the bottom of this page. I also added the great photo of Kasim from 1980 that is below the Blog for today.
I added the second batch of some really great photos of Kasim that were taken by Frank Ciapanna. They are in the Photos section of the site and are from Todd Rundgren's Power Trio tour Harrisburg concert on 6th August 2000. More great photos from Frank to come next week.
There is now a link to XXXXX on Miriam's page about Kasim Sulton on her Meat Loaf website.
02/10/01 - Kasim received a few mentions on a Glen Burtnik Mailing List today. It had already been mentioned on the list about the launch of XXXXX, and the news was posted about Kasim's forthcoming TV appearance (as the press release mentions Glen). Somebody replied "That is what this list is about.... support of Glen and his buddies. Totally cool for Kasim. He is very talented."
I added details to this site of how to obtain tickets for when Kasim appears on Backstage Live with Gary and Connie and details of which stations carry the broadcast, plus how to view it on the Internet. Full details can be found in the Future Appearances section of this site. Many thanks to the kind person who found and forwarded the information.
Kasim received a couple of messages on a Hall and Oates Mailing List. As I had advertised XXXXX the previous day, somebody remarked that they didn't know who Kasim was so somebody else replied:-
"Kasim Sulton was in the band, on bass, for the Change of Season tour - probably most known for his work with Meat Loaf, Todd Rundgren, Utopia."
XXXXX had over 300 hits yesterday!
I awoke to find 49 messages titled "Kasim's New Site" on a Todd Rundgren Mailing List! Unfortunately 48 of them discussed topics not very relevant to Kasim! The remaining post remarked on what a great shot there was of Kasim on XXXXX when he was 17.
02/09/01 - Big news was announced tonight as Kasim is to appear on the nationally syndicated television, radio and Internet talk show, Backstage Live, in March, 2001!! No airdate has been announced yet but the link to the article is in the News section of the site for today.
There are now links to XXXXX on both the Todd Rundgren Connection and the Meat Loaf UK Fan Club websites.
This was posted to a Todd Rundgren mailing list:-
"Has anyone checked out Kasim's new site? It is a breeze to navigate, every page loads up lightening fast (ample server and bandwidth backbone), the lay-out is clean and the features are solid. In this day and age of bombastic website overkill... it is a pleasure to be to explore a music artist's website with complete ease, solid navigational flow and a highly intuitive layout. Sometimes, less is more."
Despite the e-mail campaign there was scant recognition on the mailing lists but this was posted to a Jim Steinman mailing list:-
"This is pretty cool. For the first time ever, it seems the Jim Steinman on-line fan base is being recognized for the valuable consumer segment that it is. Kasim needs US! I like it."
The index went blue! To match the rest of this site, I changed the wording on the main index page (on the left here) to a blue font.
Late last night, Kasim himself posted a message to the messageboard on his site.
A massive e-mailing campaign was launched yesterday to inform people about Kasim's new site and to encourage everybody to take part in the campaign. The site yesterday had 526 hits which was very encouraging!
As was pointed out to me(!) a Blog should be updated from the top down so from now on, any new items will be added to the top of each day's Blog, not in order of importance so read it all!!! For that reason from now on (up!) all names will be typed in bold.
02/08/01 - At just before 1.00am this morning Kasim's first official website XXXXX opened! There was the start of her campaign to get solo gigs.
The first of Kasim's solo gigs were announced. They are at Arlene Grocery (4/7) and The Bitter End (4/14) in New York. Full details are in the Future Appearances section of this site.
Kasim sent a message to this site about his official website. I have displayed it on the opening page.
As I was sworn to secrecy, I have posted a news item that occured a couple of days ago - about Kasim's solo career first Internet press release.
Another Kasim E-Bay auction came to a close so I posted that to the News section of the site.
02/07/01 -
I added 14 great photos of Kasim from some of his 1980 gigs with his first solo band. Massive thanks to Kris Awgul for providing these photos which can be found in the Photos section of the site.
02/06/01 - On a Todd Rundgren mailing list, there was some discussion about solo shows Kasim played with his second band in about 1982:-
"I heard that in 1982 he and his band played The Up, Love Alone, Back On The Street and Set Me Free."
"This is correct. I just listened to a recording of that tour yesterday. It was surprising to me that he did Back On The Street, because that song is credited to Todd as sole writer. That's one the Power Trio should have tackled." "Utopia played Back On The Street more often than Trapped I think - after Love Is The Answer and Love In Action, it was the song they played most off that album in later years. Anyway that's a good Kasim song even if Todd wrote it. I'm trying to remember other "Kasim" songs: My Angel, Swing To The Right, More Light."
"As for Back On the Street, no way would they have done that on the Power Trio tour, because Kasim sings that one all by his lonesome...at least on Trapped they share the vocals. I was wondering why they didn't do There Goes My Inspiration together...the way the song should've been sung."
02/05/01 - I added details of the E-Bay auction for a copy of Kasim's 1982 solo release to the news section of the site.
I added the first batch of some really great photos of Kasim that were taken by Frank Ciapanna. They are in the Photos section of the site and are from The Ricky Byrd Trio gig on 21st March 2000. More great photos from Frank to follow next week.
I added the Discography to the site. At present it is just a list of the 102 albums that Kasim has appeared on and the page is very much still under construction.
02/02/01 - I added a review and some photos of Kasim's gig this week to the Gigs (Ricky Byrd) section of the site. Soon I hope to have some more reviews of the gig and some better photos.
I added outline details about the gig and about the new version of Meat Loaf's album Bat Out Of Hell that was released that day to the News section of the site for 01/30/01.
There were two lines of discussion in recent days about Kasim on a Todd Rundgren mailing list. One conversation was about Kasim's height (they decided on 5'6") and the other topic was about whether Kasim uses a Mac or a pc (they decided on a pc)!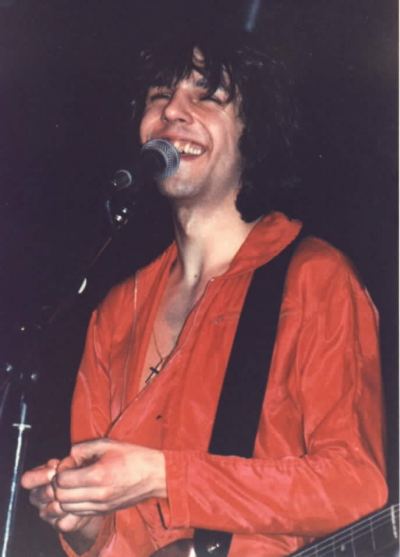 Blog01 (02/01/01 - 01/01/01)
Previous Blogs - [1st Jan to 1st Feb]