Kasim Sulton's Opening Set US Tour 2003

Tower City Amphitheatre, Cleveland, OH

Friday 19th September

Kasim's Set List:
Don't Hold Me Back
Before She Was Gone
Sacrifice

Review by Gina Martin

We noticed when we walked in that on the stage there was no mic, stool, or guitar stand set up. So..we all thought sadly.. No Kasim opener. We continued to socialize, browsed merchandise and eventually made our way to our seats. We soon discovered that in the mean time.. there was a mic, stool, and guitar stand set up!! We would be seeing Kasim open!

A local DJ gave Kasim a wonderful introduction with mention of his career and background in the music business. He mentioned his work with Todd Rundgren and Utopia as well as others. Also..he mentioned "Quid Pro Quo" and it immediately seemed to get the audience's attention. David Driskell and I noticed that as we both were scanning the crowd just to see.

Kasim came out to very warm applause and took the stage! He began by again introducing himself and saying how: "Some nights Meat Loaf just looks at me and says.. Hey Kas..how bout opening tonight?" You can tell he really appreciates the times he gets to share his music. He also took time to mention that he had a cd for sale called "Quid Pro Quo" To this..David strategically yelled "It's worth every dime!!" loud enough for everyone (Kasim included) to hear! This brought a smile to Kasim's face and he looked our way and gave a warm "Thanks!" That was truly a great moment!

His voice was very strong and clear this night! The sound at this venue was really excellent. You could hear the blend of the acoustic guitar and his voice perfectly. The audience was immediately entranced. The set was short but really got the audience into the mood of the evening. He left the stage to loud and very appreciative applause. I wish he could have done more songs..but I was thrilled that I was able to see his opening set on this tour! Thanks Kasim!! Awesome performance!!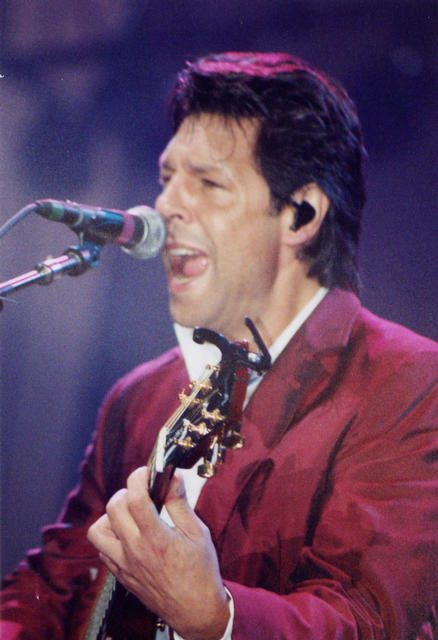 <
Back to Kasim's Opening Set Tour page
Copyright © 2003 KasimInfo.com
All Rights Reserved